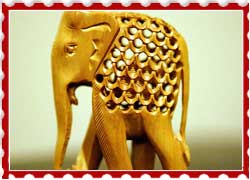 The sandalwood craft of Karnataka is known the world over for the sheer dexterity of the woodwork involved. Highly skilled workers, primarily the gudigar families of Shimoga, Uttara Kannada and Mysore districts specialize in this craft of intricate carvings on sandal wood. Due to extensive plantation of Sandal wood trees, in about 8000 kilometers, particularly in North Karnataka, this craft has taken roots in those parts.
The sandal wood tree is never felled but is uprooted during the rainy season when the roots are richer in oil. The wood is refined and used to make a plethora of products that range from idols of deities and finely wrought chariots to decorative pieces such as paper cutters, boxes, name cases, trays, photo frames, combs, walking-sticks, fans, cigarette cases, holders, and elephant statues. Mysore is the hub of the flourishing sandalwood industry.
The roots and trunk of the tree are used for extraction of sandal oil - a base for perfume, medicines and cosmetics.