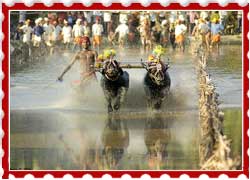 The rural sport of Kambala is a traditional buffalo race held predominantly in the southern coastal Karnataka region. A mélange of slush, speed and power, Kambala features buffaloes racing down a muddy track while being urged frantically by a farmer riding a wooden plank. A massive congregation cheers the competing beasts and fastest pair of buffaloes garners the top prize.
Opinion is divided over the origin of Kambala; some claim it to have originated as a royal pastime while others regard it as a recreational sport of the farming community. Dedicated to Lord Kadri Manjunatha, the buffalo-races are held from November to March in Baradi Beedu, Bajagoli, Puttur, Kamalakatte and Uppinangadi.
In its original avatar, Karaga celebration was marked by the humble elements of rural life. Held amidst a rural setting, the winner of Karaga race was awarded a coconut and a bunch of plantains. Today, riding on a popularity wave, Kambula has assumed massive proportions. Modern Kambalas are professionally organized day and night events with electric illumination. One could see more than 20,000 spectators in a well-organized "Kambula" and up to 130 pairs of buffaloes may participate.