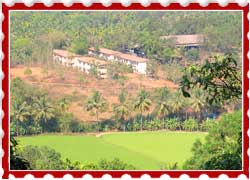 One of the most sacred places in South India, Dharmasthala is an exemplary manifestation of communal harmony and peaceful co-existence of different religions. Located 65km east of Mangalore in the Dakshina Kannada district, Dharmasthala is thronged by Jain, Hindu, Christian and Muslim devotees who come here for the cure of their ailments.
True to its tradition of religious tolerance, the Jain tirthankara and Lord Shri Manjunatha Swamy (another form of Lord Shiva) are worshipped on the same sanctified site in Dharmasthala. During the annual festival of Laksha Deepotsava held in November or December, 100,000 oil lamps illuminate the night sky with their tiny flames.
The colossal monolithic statue of Bhagaban Bahubali, located atop the hill Rathnagiri Betta, is a major attraction of Dharmasthala. The statue, weighing 200 tons and 52 feet high, was carved by famous sculpture Shri Renjala Gopala Shenoy of Karkala. He started to sculpt the statue in 1967 and finished in 1970 in Karkala.