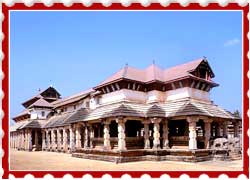 Mangalore excursions tour would take you to the holiest pilgrimages of different religions.
Dharmasthala (65-70 km)
An epitome religious harmony, Dharmasthala is home to sacred shrines of Hindu and Jain religions. The Jain tirthankara and Lord Shri Manjunatha Swamy (another form of Lord Shiva) are worshipped on the same sanctified site in Dharmasthala. The colossal monolithic statue of Bahubali is a major tourist attraction of Dharmasthala.
Karkala (50 km)
Another Jain pilgrimage, Karkala is well known for the giant statue of Bahubali (Gomateshwara). A flight of rock-cut steps leads to this nude statue of Bhagaban Bahubali. Chaturmukha Basti, Neminatha Basti, Anatapadmanabha Temple dedicated to Vishnu, and Venkataramana temple are the other prominent temples.
Mudabidri (35 km)
A pilgrimage for Jains, Mudabidri is home to 18 basadis or Jain monasteries. The Tribhuvana Tilaka Choodamani Basadi, also known as the thousand pillars basadi, is the grandest of the Jain basadis. Each of the thousand pillars is ornamented with different carvings.
Ullal (12 km)
Ullal is known as much for its scenic beaches as for its religious sites. Dotted with casuarina groves, the Ullal beach is a lovely destination for those looking for a tranquil holiday. The Ullal Jamma Masjid, dedicated to the memory of the Muslim saint Syed Muhamed Shareef Madani Melangadi, is a renowned Muslim pilgrimage.