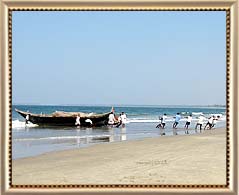 Tarkarli Beach is one of the most famous attractions of the Tarkarli city, which is sited at a distance of approximately 6 km to the south of Malvan. The location of the city, at the confluence of the Karli River with the Arabian Sea, makes it home to one of the most picturesque beaches in India. Being situated at a distance of only 160 km from the amazing city of Kolhapur, Tarkarli is also counted amongst the favorite excursions of its locals as well as visitors.
For those who want to get away from the humdrum of city life, Tarkarli Beach presents the perfect sojourn. Still one of the virgin beaches of Maharashtra, it has a long stretch which, though narrow, provides the perfect opportunity for undertaking long, leisurely walks. Situated on the western coast of India, the beach boasts of clear azure waters. Infact, the water is so clear that on a sunny day, you can easily see the seabed upto 20 feet of depth.
Adding to the beauty of the Tarkarli Beach are the Shuru trees, which provide the green background to the white beach sands. There are facilities for going on a boat and you can indulge in swimming too. The small island hamlets, seen on the bank of the Karli River, seem to enhance the magnificence with which the beach is bestowed. When at Tarkarli, do not forget to visit Padmagarh fort and Sindhudurg Fort, situated close by.