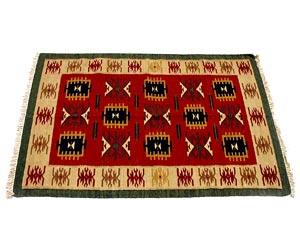 Durries are the flat woven rugs that are functional as well as striking in nature. They are used either as carpets on the floor or as bed sheets. What makes them distinct from the normal carpet and the bedcover is the intricate blend of artistic designs. The bright presentation of artistry in Punjabi durries adds to decor of the room. Initially made for the countryside usage, durries now form an integral part of urban homes. They present a distinct blend of both tradition and modernization, in a composed harmony.
Durries are very widely used for sitting on the floor during the religious or political gathering. They come in numerous designs and pattern. Flora and fauna designs are commonly used. During weaving of the durries, each and every minute detail is taken care of. These durries are weaved on adda, an elementary loom and are tinted in myriad colors. Though chemical colors are used at present, in earlier times, natural colors extracted from henna, madder, walnut bark and turmeric were used.
Technique
Many of the Punjabi village girls are involved in weaving of durries from a young age. These durries are made in two distinct ways, depending on their purpose. Striped, multi-colored durries that are used on bed are manufactured by pit loom. While the one spread on the floor are usually made in two contrasting colors, on the adda, using three weaves simultaneously. The art of durrie-making lies in creating colorful patterns, keeping the rug reversible. The design is created by interweaving colored weft threads through the wrap threads. The weft is usually wool and the wrap is either cotton or wool. Different types of patterns are created on the durrie, during weaving. The striped durrie is the most popular one.
Popularity
Durries are gradually gaining importance over the carpets. The reason is that durries are easy to maintain. They are lighter and are easy to move and clean. Besides, they are highly economical, suiting the common man's pocket. They are available in every style, ranging from the casual to the gorgeous ones. Durries are widely available all over Punjab. However, the main centers producing durries are Amritsar, Nikodar, Jalandhar, Hoshiarpur and Anandpur Sahib. Mani Majra, on the outskirts of Chandigarh, produces distinct durries with special patterns and designs. Durries of Mani Majra stand different from the durries produced elsewhere in Punjab.