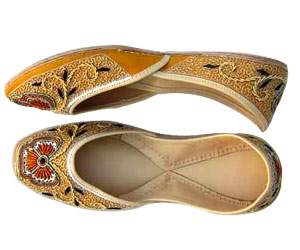 Punjabi juttis represent the traditional footwear of Punjab, which is known worldwide for its exquisite design and intricate pattern. It can be described as a traditional Indian shoe, which some other states like Rajasthan and Haryana also manufacture. However, the name 'jutti' is typical to Punjab, whereas similar traditional footwear is called khussa or mojri in other states. Juttis are long shoes with a curved end. They are made out of self-lured leather. Gold and silver threads are used to weave embroidery on them.
There is a rich display of artistry in Punjabi jootis. They are exceptionally colorful and extraordinarily traditional. There is a wide use of fancy materials like beads, pearls, coloured threads, small mirrors and seashells. Light juttis are considered the best. It is said that they are so light that even the sparrows can fly away with them. They are designed in such a way that they give an ethnic Indian look to the wearer, combined with a royal appearance. Utility, along with beauty, is the main concept behind the production of juttis. Dressed like sherwani are incomplete without the grace of a jutti.
The designs of Punjabi juttis are inspired by the footwear that was worn by the royal people during Mughal period. Usually, they have a curved toe, which sets them apart from other footwear. They consist of a network known as 'jaali', which is made up of the mixture of variety of threads. Juttis come in wide varieties; some of the popular ones are the King wedding jutti, style jutti, khausa jutti, punch zari and comfort juti, energise jutti and mesmeric embroidery jutti.
Punajbi juttis are slip-on in style and comfortable on feet. They cover the toes with a round or M-shaped heavily embroidered upper part and leave the top of the foot nearly bare. Though widely available throughout the state of Punjab, you can discover the most stunning varieties of juttis in Patiala city. Muktsar, near Faridkot, is another famous centre for juttis. It is well known for the production of two varieties of juttis - khosa and kasuri. More than 50 families in Muktsar specialize in making juttis.