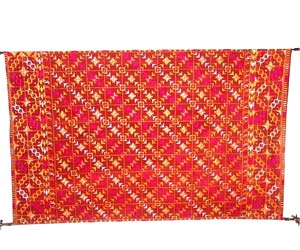 'Phulkari', literally meaning the flower working, is designed to enhance the beauty of attire. It is an art form, in which exquisite embroidery is done over shawls, dupattas and headscarves, in a simple and sparse design. In some cases, the entire cloth is covered with dense designs, so that the ground cloth becomes invisible. This is called as the 'bagh' design, which literally means 'garden'. Bagh is generally considered as a symbol of marriage and is widely used during special occasions.
Origin
Phulkaris were originally made by Punjabi women for their own personal use. They used to design embroideries on their garments as a means of passing time. Nevertheless, this art form gradually became a significant craft of Punjab, with a huge market both within and outside the country. It was particularly after the 15th century that phulkari grew rapidly in popularity. Some scholars trace the history of phulkari to Iran, where it is known as "Gulkari". Others are of the opinion that it came from Central Asia along with Jat tribes who migrated to India and settled in Punjab, Haryana and Gujarat. There is also reference to phulkari in Vedas, Mahabharat, Guru Granth Sahib and folk songs of Punjab.
Technique
Phulkari is done by making artistic small-darn stitch over the cloth. The stitches are made on the reverse side of a coarse cotton cloth, with colored silk threads. Smaller stitches are finer, delicate and have an awesome look. Only one single strand is used at one time. The stitches are done vertically, horizontally and even diagonally, to create special effect of light and shade. The base cloth is homespun, locally woven and dyed khadi. Such a base is strong, long lasting and cheap and at the same time, facilitates much needed counting of threads while stitching. Besides, it can be easily worked on without a frame and the cloth does not puckers or pulls. Colors like white, dark blue, black and brown are generally used for the base cloth, but the most preferred color is red. The fabric itself is used as an inner decoration so that the pattern sewn on it becomes more distinct and attractive. The finished portion of the embroidery is rolled and covered with a muslin cloth, to keep the embroidered part clean while working.
Designs and Patterns
There is an extensive pattern of designs used in phulkari. Every possible representation of life and nature find expression therein. Though it began with geometrical patterns, flowers and leaves, today, the designs have been enlarged to encompass birds, animals, human figures, the sun, moon, the objects of everyday use and everything found on the earth. Then, there is a special bagh design called dhoop-chhaon (sun-shade), which is extremely popular in the state. However, no religious subjects or darbar scenes are embroidered. Some of the most famous varieties of phulkaris and baghs have been listed below.