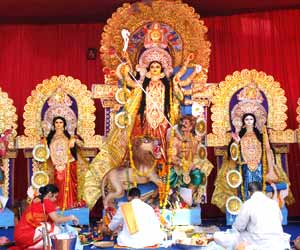 Best Time to Visit Kolkata:
October to February
Kolkata is visited by thousands of national and international tourists every year. People come here to enjoy the colorful art and culture of the City of Joy. Other than the scenic grandeur, the city also offers a peep into the British India, through some ancient architectural buildings. The celebration and festivity of the city are well known. People from round the globe come here to watch the celebration of Durga Pooja and other regional fairs, like Gangasagar and Kenduli Mela. The best time to visit Kolkata is in its festival season i.e. around October, when the atmosphere is colorful, with pleasing weather and festive mood all around.
As the summer of Kolkata is very hot and humid, it is nearly impossible for tourists to roam around with ease during this season in the city. In monsoons, the torrential rains can perturb the normal lifestyle of people here, so tourist expeditions are a bit difficult. The best and the most favored season for coming to Kolkata is winter i.e. October to February. This is the best time for visiting Kolkata as there is minimal humidity and perspiration. Even the temperature is in a pleasing range, around 15°C.
While coming to Kolkata in winter, make sure to bring light woolens with you, as you may need them during late nights as well as early mornings. However, do not overstuff your bag with too much winter-wear, as you will not need much of them in the city. The temperature never dips below 10°C, so there is no need of heavy woolens as well. You will also find this weather apt for taking pleasant walks near sea. So, wait for nothing more! Just pack your bags and plan a trip to this City of Joy in the coming winter.