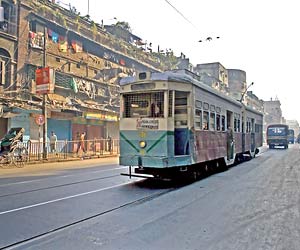 Established In:
February 1873
Authority:
CTC (Calcutta Tramsway Company)
Timings:
4.15 am to 11.40 pm
Kolkata is the only city in India to have a tram transportation network. Started on 24th February 1873, between Sealdah and Armenian Ghat Street, it is one of the oldest means of modern transportation system in West Bengal. Trams are actually light weight rail borne vehicles, running on tracks, primarily on the road. They are also called tramcars, trolleys, trolley cars, or streetcars. The tram service in Kolkata, as rest of the world, was dependent on the horses in the beginning. However, with the introduction of electricity for such purposes, trams became a popular and comfortable medium of transportation in the 20th century. The timings for the tram service are 4.15 am to 11.40 pm.
The tram network in Calcutta has been maintained by CTC (Calcutta Tramsway Company) since 1880. The company became a 'Government of West Bengal undertaking' in 1951, when the government entered into an agreement with the CTC (Calcutta Tramways Company) and enacted the Calcutta Tramways Act, 1951. The trams even began to be manufactured in India from 1952 onwards. At present, CTC owns 319 trams, out of which 239 are operational. However, right now, there are only 170 of them running on the streets of Calcutta regularly. On an average, a single Kolkata tram carries 900 passengers in a day. The tram runs on 29 routes a day, in two shifts.
The sitting capacity of the single deck articulated compartments of Calcutta tram is 60, while the total accommodation capacity of the tram is 200. The tram has 7 depots, at Belgachhia, Rajabazar, Park Circus, Gariahat, Tollygunge, Kalighat, and Kidderpur. There are 11 tram terminals in total, with 7 of them at Shyambazar, Bagbazar, Bidhannagar, Ballygunge, Esplanade, BBD Bagh, and Howrah Bridge. Rajabazar and Tollygunge depot are the largest depots, in terms of the number of tracks and the area covered, while the depot at Kidderpur is the oldest. Kalighat Depot is the smallest tram depot in Kolkata. Esplanade terminus in Kolkata has most tram routes.