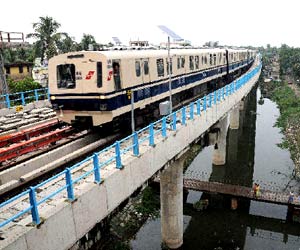 Established In:
1984
Total Length:
16.45 km
Total Stations:
17
Authority:
KMRC (Kolkata Metro Rail Corporation)
Kolkata Metro was the first metro rail to be set up in India and the fifth one to be established in the entire Asian continent. Maintained by the Indian Railways, this underground metro network became functional in the year 1984. The metro rail stretches from the northern Kolkata at Dum Dum and continues through Park Street and Esplanade, in the center of the city, to the southern end, in Tollygunge. The entire length of Calcutta metro network is 16.45 km and there are a total of 17 stations on the entire stretch. Metro rail is one of the most convenient modes of traveling in a crowded city like Kolkata.
The plans of Kolkata metro rail project began much later than it was conceived. Bidhan Chand Roy, the then chief minister of West Bengal, came up with the idea of a metro as early as 1949. However, the conceptualization and application of the idea took over a huge period of 35 years. Even after the laying of foundation stone by Smt. Indira Gandhi, the then Prime Minister of India, on December 29, 1972, the project suffered several hiccups, like lack of fund, lack of technology, unavailability of mandatory goods, lack of expertise, and court issues, and took about 12 years to be completed.
When Kolkata metro was started, in 1984, the rail served on a single line only, between Esplanade & Netaji Bhawan (then called Bhowanipore). At that time, there were no magnetic gates or electronic ticketing system. There were ordinary revolving gates, with normal tickets. In 1986, the extension of the rail up to Tollygunge took place, leading to many new developments. For instance, the metro service started on double line and magnetic tickets as well as electronic entry gates were also introduced.
The construction work related to Calcutta metro rail was again disrupted, for about six years, due to political insurgency. During this time, more magnetic gates, escalators and entry gates were added at the stations. At present, efforts are on to make the Kolkata metro a world class metro. There are also plans to increase the access of the metro rail by 2009 on other routes. Even an east-west metro corridor, under the authority of KMRC (Kolkata Metro Rail Corporation), has been planned in the near future.