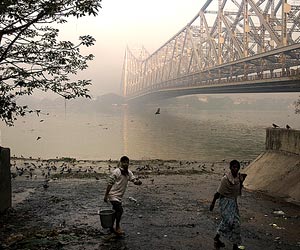 Location:
Duars, West Bengal
Summer Temperature:
Max: 41°C; Min: 26.5°C
Winter Temperature:
Max: 25°C; Min: 12°C
Average Rainfall:
1582 mm
Best Time to Visit:
September to February
Kolkata, the state capital of West Bengal, is one of the most favored destinations for national as well as international tourists. People from all over the globe come to enjoy the festivity, culture, art and beauty of the city. Named as the 'City of Joy' due to its liveliness and the umpteen celebrations that take place here - throughout the year, Kolkata is one place that you must visit to have a glimpse of the rich cultural lineage of West Bengal. However, before visiting Kolkata, make sure that you are aware of the weather conditions here, so that you can plan your trip in accordance. As the city is located near sea, its weather is greatly influenced by it. There are three major seasons - summer, monsoon and winter. Given below is more information on the weather and climate of Kolkata.
Summer
Summers in Kolkata stretch for about 4 months i.e. from March to June. The summer season here is quite hot and humid. The maximum temperature of the city in summer goes up to 41°C. The hottest month of the summer season is May, when both heat and humidity are at their extreme in the city. The southwesterly monsoon winds flow here during summer. Showers, accompanied with dusty violent winds and termed as 'Kal Baishakhi' by the local people, do take place at times, in this season.
Monsoon
Monsoon start from mid-June and stretch up to the end of September. The season is influenced by southeastern monsoon winds. Monsoon brings torrential and continuous rains in the city. The rainiest month of the monsoon season in Kolkata is 'August', with average rainfall of about 306 mm. The average annual rainfall of the city is about 1582 mm. After the monsoon, there is a very brief autumn here, which lasts about a month.
Winter
Winters in Kolkata start from end-October and last till February. The weather in this season is pleasing. This is the best time to visit the place, as there is no humidity and dust. The early mornings in the winter season are hazy. The average temperature of winters in Kolkata varies between 12°C and 14°C. The temperature here never goes below 10°C.