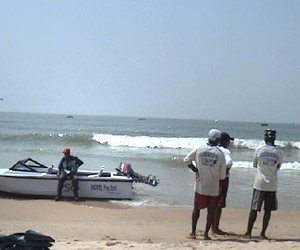 Kolkata, the capital city of West Bengal, is often termed as the 'City of Joy' due to the different kinds of celebrations that take place here throughout the year, apart from the festivities and fun it offers. Apart from the traditional cheerfulness of the festive season, the city also offers its tourists with the joy of myriad fun activities. One of them is water sports. This kind of sports forms an integral part of the city, which is home to so many natural as well as artificial water bodies. The water sports are practiced on an amateur as well as professional level, in Calcutta.
Swimming is a commonly practiced sport in Kolkata. Lots of children start training for professional swimming, from very tender age, in the various swimming clubs in the city. It is considered as a form of recreation as well as a means to stay fit. The activity is not limited to the elite class; those who can't afford expensive swimming clubs enjoy swimming in the river Hooghly, the local ponds and the lakes in the city. In fact, the city is known for producing some great sportsmen in the field of swimming, from time to time.
The aqua sports in Kolkata are not simply limited to swimming. Many other water sports, like rowing, kayaking and boating, are equally popular amongst the Kolkatians. The city has some really good rowing and kayak cubs. Another water sport which is very popular in the city is boating. There are some great lakes for boating in Kolkata. These lakes are often used for the boating competitions, held every year. Nicco Park and Aquatica are the popular places in Calcutta for recreational aqua-sports.