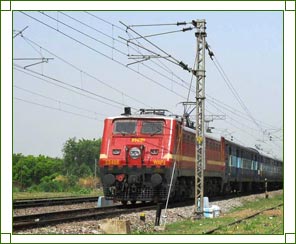 The city of Dibrugarh is well connected with the other regions of Assam as well as with the rest of India by well maintained airways, railways and roadways. The city is, in fact, regarded as the major gateway of Upper Assam and as such the airport, the rail station and the bus stand remain crowded all throughout the year. Moreover, you donít need a permit of any kind to reach there. So, the next time you are on a holiday, grab your bags and head to this land of exquisite natural beauty and splendor. It will surely release you from the monotonous routine of your daily life and leave you feeling relaxed and rejuvenated. In this article, we will tell you all about reaching Dibrugarh city of India.
Traveling to Dibrugarh
By Air
Mohanbari Airport connects Dibrugarh to all the major airports in India, like Guwahati, Delhi, Mumbai and Bangalore. The airport is situated at a distance of 13 km from the center of the city and is one of the busiest airports therein. Some of the major airlines, like Air India, Indian Airlines, Jetlite and Kingfisher, conduct flights to and from the city, on a regular basis. Besides this, the Airforce field at Chabua (25 km from Dibrugarh) is also used to connect the city to other places in the north-east and also to Kolkata.
By Rail
The railway station in Dibrugarh has trains for the purpose of both interstate and intercity transport. There are three major interstate transport expresses - two of which originate from New Delhi (Rajdhani and Brahmaputra Mail) and the third one is from Kolkata. Besides this, daily express trains are available for traveling to Guwahati and the other regions within Assam.
By Road
The city of Dibrugarh is at a distance of 440 km from Guwahati and 240 km from the famous wildlife sanctuary, Kaziranga. The NH-37 connects all the major towns and cities of Assam and has greatly facilitated transport by road within the state. The ASTC (Assam State Transport Corporation) provides regular bus service at periodic intervals to all the major places within and outside the state. Apart from the normal day and night service buses; the corporation also has a number of special mini buses to travel to the hilly areas. In addition to the transport services, ASTC also provides other services, like computerized ticketing system, courier services and also cargo services.