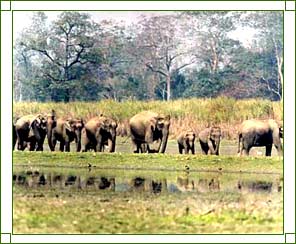 Location:
Near NRL (Numaligarh Refinery Limited) complex, Golaghat District
Highlights:
A famous historical natural spot
Deopahar is a very famous historical natural spot located within the district of Golaghat, Assam. The place, with its ancient monuments and ruins, lies close to the NRL (Numaligarh Refinery Limited) complex within Golaghat District. Mythology often relates this place with the Kingdom of Jarasanda, in ancient Assam. With a total area of about 135 hectares, the region has been recently declared as a reserved forest of Assam and is one of the most famous tourist spot of the state.
The entire region of Deopahar is covered with deep forests, containing some of the most valuable trees and herbal plants, like Hatidhekia, Sam, Am (Mango), Bahat, Outenga (Elephant Apple), Ghandhakoroi, Sarpagandha (Rauwolfia Serpentine), Mezankari (L.citrata blume), Pannial, etc. Besides this, the reserve is also the home to a large number of wild animals, like Azagar (Python), Great Snake, Gui, Hudu, Bonrow, Moluwabandar and Lazukibandar, etc.
The world famous butterfly park, Pakhila Uddyan, was established within Deopahar reserve by the NRL authority and is one of the most sought after tourist destination of the area. Some of the most exquisite and unique species of butterflies can be seen in this park and serve as a great source of delight, especially to the young children. Apart from this, Deopahar is also renowned for the different historic monuments situated in this area.
Although in ruins now, the beauty and grandeur of the ancient remnants of the Assamese history can still be seen in Deopahar. As such, naturalists and historians all over the world come to this reserve in the north east zone of the country. According to these historians, the artifacts found here belong to the 7th and 9th century AD i.e. the pre- Ahom era. There is also a Shiva temple and a fort called Lakhowgarh found in the area.