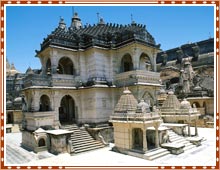 Bhavnagar has not lost the glory of the royal days. The place attracts a number of tourists, who come to experience the majesty of the place. Apart from the tourist places of Bhavnagar, there are a number of excursions around the city. These excursions will make your experience richer. The Saurashtra region is enriched by many exotic locations, which are a perfect retreat from the daily busy life. So, explore the city of Bhavnagar and be a part of an unforgettable experience.
Black Buck National Park
Black Buck National Park is situated at Velavadar, at a distance of 72 km from Bhavnagar airport of Gujarat. It was established in the year 1976 in the Bhal region of Saurashtra and spreads over an area of 34.08 sq. km and has appropriate grasslands ecosystem.
Gopnath Beach
Gopnath Beach is situated in the Bhavnagar district of Gujarat. It is located on the coast of the Gulf of Kambhat, at a distance of 75 km from the city of Bhavnagar. Gopnath is a pristine beach known for its natural beauty.
Palitana Jain Temples
Palitana is situated at a distance of 51 km from Bhavnagar and serves as an important Jain pilgrimage of Gujarat. The Shatrunjay Hill loacted nearby the place hosts approximately 900 big and small Jain Temples. These temples are dedicated to the 24 Jain Tirthankarars.
Shihor
It houses the historic old palace of the Maharaja of Bhavnagar. The palace stands with all its ancient glory and is adorned with sprawling gardens, artistic wall paintings and woodcarvings.
Khodiyar Mata
Khodiyar Mata was the family Goddess of the rulers of the former Bhavnagar State. There is a shrine dedicated to the Goddess nearby. The deity of the temple is taken in high regard. The shrine boasts of exquisite architectural beauty and presents breathtaking sites. It has 36 pillars and a huge mandap to add on to its beauty.
Mahuva
Mahuva is a small town, situated at a distance of 25 km from Bhavnagar. It is famous for its wood and ivory handicrafts. The specialty of the place is Lacquer work on wooden furniture and toys. 'Jamadar' mangoes grown here are similar to the delicious Alphonso. The main attractions of the town are an old mosque, Laxmi-Narayan Temple and a Jain Dehrasar. The Pipavav project nearby is flourishing as a major port and coastal industrial centre.
Gadhada
Gadhada is famous for its Swaminarayan Temple. The temple was built in 1829 AD and is an architectural gem. It is situated on a high platform with a square, an assembly hall and large sarais (rest houses). The temple was built by the Swaminarayan Sampradaya. Every year a fair, known as Jal-jhilani Ekadashi, is held here on Bhadrapad Sud 11. The fair is attended by a large number of devotees.