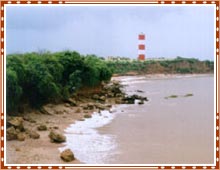 Gopnath Beach is situated in the Bhavnagar district of Gujarat. It is located on the coast of the Gulf of Kambhat, at a distance of 75 km from the city of Bhavnagar. Gopnath is a pristine beach known for its natural beauty. Gopnath was once the summer residence of Maharajah Krishna Kumar Sinhji of Bhavnagar. He was supposedly, one of the top 50 richest rulers of India. The spell bounding beauty of the beach is one of the major reasons for the tourist influx to this place.
Gopnath beach is known for its scenic beauty, limestone cliffs, natural surroundings and fascinating flora and fauna. A visit to the beach is an excellent way to relax, away from the hustle and bustle of the city life. The place is also home to a mansion built by the Maharaja for his comfortable stay. The mansion is now a tourist attraction for the people who come here. It was built in 1940s and has a huge complex, comprising of official chambers, residential quarters and cottages for the guests. Today, it provides limited accommodation facilities for the tourists.
Though there is no dining facility available in the mansion, you can enjoy fresh sea food and delectable home cooked Kathiawari meal nearby. Gopnath beach is very good for long walks. However due to high tidal pressure, it is not very suitable for swimming. Gopnath Beach attracts a number of marine life and bird watching enthusiasts. Apart from this, you can also go on a sight seeing tour around the place. The main attraction includes Talaja, a Jain temple complex spiraling up a 350 foot volcanic hill, 1st century Buddhist caves and a Hindu temple formed out of one of the caves.
The 700 year old, Gopnath Temple is a must visit site. It is perhaps the only temple in India which hoists two color flags. One is white, denoting the Vishnu temple, whereas the second is saffron, depicting the Shiva shrine. It is at this place that the renowned poet Narsinh Mehta attained enlightenment. The temple is surrounded by a many budget accommodations like dharamshalas and guest houses. Other one of the fascinating sites nearby is Alang. It is the largest ship breaking zone in the world.