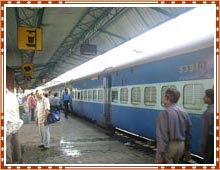 Bhavnagar boasts of a rich historical background. It was once inhabited by the royal family of the Maharaja. This has contributed in making it a popular tourist destination, visited by hundreds of tourists every year. It is easily accessible from all the major cities in India through various means of transport. Traveling to Bhavnagar can be easy if you gather some information regarding the same from the tourist offices. The answer to the question 'how to reach' Bhavnagar is given below for your convenience.
By Air
You can reach Bhavnagar by catching a flight from Mumbai. Other than this, there are a number of domestic flights connecting the city with Surat and many other cities in India. Bhavnagar Airport is located at a distance of 9 km from in the south east of the city.
Domestic Airlines
The following domestic airlines operate out of the Bhavnagar airport.