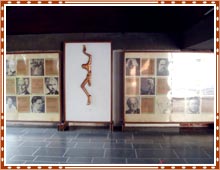 Bhavnagar boasts of a number of tourist attractions. Situated near to Ahmedabad, the city is yet another destination in the state visited by tourists in large numbers. It was once the princely state of the Maharaja of Bhavnagar. This glorious past has resulted in Bhavnagar being dotted with a number of lakes and temples. It even houses the Samaldas College, where the father of the nation, Mahatma Gandhi was once a student. The college is more than 100 years old. Apart from this, there are many interesting places to see on the sightseeing tours of the city.
Gandhi Memorial
Gandhi Memorial is also known as Gandhi Smriti Museum. The museum has a collection of some rare photographs and memorabilia associated with Mahatma Gandhi.
The Barton Library
Barton Library is one of the oldest libraries in Gujarat. It is located in the center of Bhavnagar. There is also a museum in the building. which is a worth visiting spot in the city.
Gaurishankar Lake
Gaurishankar Lake is a popular picnic spot. A number of fairs and other public events are also organized here. The lake is flanked by a beautiful garden known as Pil Garden. There is also a small planetarium in the vicinity.
Takhteshwar Temple
Takhteshwar Temple is located on a hillock near the city. It is dedicated to Lord Shiva and is an important pilgrim place for the nearby region. It was built in the year 1893 by Maharaja Takhatsihnji. The temple and the whole complex are made up of white shining marble. It is a much sought after picnic spot and offers a panoramic view of the city.
Water Lock Gate
Water Lock Gate is a one of its kind structure in Gujarat. It was constructed with a special purpose i.e. to maintain the level of the sea water in the docks. This helps the ships to float during the time of low tide. It is allowed to see this gate, but only with prior permission.
The Central Salt and Marine Research Institute
For those who have keen interest in science, the Central Salt and Marine Research Institute is an interesting place. Many scholars, from across the country as well as abroad, visit the institute for research purpose. It is located on Waghavadi Road and enjoys immense popularity.