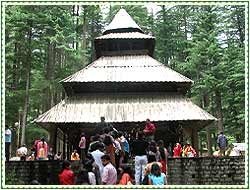 Hadimba Devi Temple is dedicated to the wife of Bhim, one of the five Pandava brothers in the Indian epic Mahabharata. As the legend goes, Bhim married Hadimba and they had a son. Later on, Hadimba left the place and became a spiritual. The people later erected a temple in her respect, known as Hadimba Temple. The temple is in pagoda style and comprises no idol within, albeit, some footprints are engraved and are worshiped by devotees.
Hadimba Devi Temple has 24 m high tower. The three tiers of its square roofs are covered with timber tiles, while the conical roof is clad in metal. The unadorned walls of mud-covered stonework contrast with the wooden doorway, which is elaborately decorated with miniature depictions of Goddess, attendants, animals and stylized foliation. On the beams above the doorway appear the Navagrahas, female dancers an isolated scene from the Krishna story.
As per another legend, the architect of the temple had to lose his hand for this masterpiece. King was afraid of duplication of the master craft and he ordered architect's hand to be cut. This anecdote might have some portion of reality and truth, with only the temple being a mute witness. It is also said that this could not stop the master architect, who trained his left hand and at the request of the people, executed an even finer temple at Trilokinath in Chamba.
The temple is also known for a fair held every year in Hindi month of Sravan in the memory of Raja Bahadur Singh, who built the temple. The fair is popularly known as Bahadur Singh Re Jatar among locals. There is another fair too which is held on 14th May each year in the celebration of birthday of Hadimba Devi. Women around and from Dhungri forest come and celebrates this fair with music and dance.