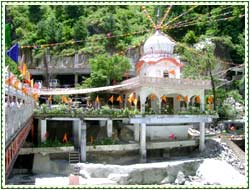 Manikaran Gurudwara, held sacred by the Sikhs and located near Manali, is a popular tourist destination. According to the Sikh sources, Guru Nanak Dev once visited this place, accompanied by his disciple Bhai Mardana. The gurdwara is commemorated to the same visit of the Guru. The Janam Sakhi or the 'Autobiography of Bhai Mardana' mentions the various miracles did by the Guru at this place. Manikaran Gurudwara, built in the mountains, provides some extraordinary sights.
It is built at the place where the first Guru, Guru Nanak, meditated during his journey around India. There is a hot spring which is used to cook some of the food for the Langar. One can enjoy a dip in the hot waters from the springs. There are altogether three baths, one of which is located under the Gurudwara itself. It is believed that by taking bath here and by drinking water of this place, people go to heaven. Manikaran hot spring is said to have Uranium and other radioactive minerals.
Besides housing the famous Gurudwara, a sacred place for Sikhs, Manikaran has religious importance for Hindus too. As legend goes, Lord Shiva and Goddess Parvati went to Manikaran and stayed there for a long time. During their stay, they were engrossed with each other. One day while Lord Shiva was still relaxing, Parvati discovered that she had lost her jewel. She informed her husband, but he too failed to find it. Now furious Lord Shiva opened his third eye and created tremors over the entire Universe.
Seeing this, Sheshnag started hissing, until precious stones were carried by flowing hot waters to his wife Parvati. People traveling here believe the place holds somuch reverence that that one need not visit Kashi and other places of pilgrimage after coming here. The place attracts a huge number of pilgrims from Sikh and Hindu communities, besides other travelers. Located atop the Himalayan Ranges, Manikaran is definitely a place to visit on a tour of the beautiful Manali.