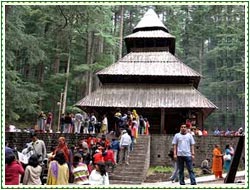 One of the most beautiful hill stations of Himachal Pradesh, Manali falls under the district of Kullu. It is situated at a height of 2050 meters above sea level and is visited by tourists from various parts of India. The natural beauty of hill resort gets greatly magnified by the presence of the Beas River, which swiftly meanders through it. The wild flowers, hamlets and fruit-laden orchards seen on the banks of the river lend it a magnificent look. Given below are the major tourist destinations of Manali, which should be covered on all the sightseeing tours of the hill resort.
Gadhan Thekchhokling Gompa
Gadhan Thekchhokling Gompa is one of the small Tibetan monasteries, known as Gompas, situated in Manali. The vivid use of bright colors and liveliness of the monastery is what attracts the tourists. One can buy Tibetan carpets, durries and other artifacts from here.
Hadimba Devi Temple
Situated at a distance of approximately 1.5 km from the main Manali, Hadimba Devi Temple is also known by the name of Dhoongri temple. Surrounded by thickly wooded forests, it has a 4-tier pagoda-shaped roof, an intricately carved doorway and beautiful mythological sculptures. You can also ride a yak here.
Manu Temple
Manu Temple is located in the Old Manali and can be reached after a half-hour trek on the hill. It enshrines Manu, who landed and settled down in Manali, after the great floods and became the progenitor of human beings.
Vashisht Baths
Vashisht is a small village, situated on the bank of River Beas. It is famous for a splendid temple, dedicated to Lord Rama, and hot springs that are said to have medicinal properties.
Malana
Across River Parvati, on the trekking route from Jari, is a beautiful quaint village called Malana. The village is believed to have been inhabited by the descendants of the Greeks that came as Alexander's army. Malana is one of the villages that have democratic assembly to take care of the village's administrative matters.
Naggar
28 km from Manali, Naggar is famous for Naggar Castle, which has now been transformed into a heritage hotel; Roerich Art Gallery and Uruswati Mueseum that houses paintings of the famous Russian painter, Nicholas Roerich.
Roerich Art Gallery
Nicholas Roerich was a Russian who settled down in the beautiful hills of the Himalayas after the revolution of 1917. He was a gifted painter, who dreamt of unifying the world through art.
Uruswati Himalayan Folk Art Museum
Situated in Naggar, within the premises of the Roerich estate, Uruswati Himalayan Folk Art Museum is just 100 m uphill from the Nicholas K. Roerich Art Gallery. Professor and Madame Nicholas Roerich set it up in 1928.