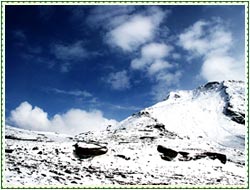 Located at high altitude, Rohtang Pass is a popular destination among tourists who visit Manali. Those who are of adventurous nature opt for trekking to this place, which stands surrounded by great greenery and snow capped mountains. The pass is the highest point on the Manali-Keylong Road, located at 4112 meters of altitude. From here, you can see other surrounding mountains and their beauty. There are great trekking opportunities around the Rohtang Pass, though the skiing scopes are limited.
The distance between Rohtang Pass and the Manali town is about 51 kilometers.
Rohtang pass connects the Kullu Valley with the Lahul and Spiti valleys of Himachal Pradesh. The trekkers' route to the pass provides some of the most beautiful views of the surrounding mountains and the greenery all around. Rohtang Pass has excellent roads maintained by Border Road Organization. Travelers usually do not face problem in commuting to this place. The pass is not operation throughout the year, rather is open between May and November.
During winters, the place gets heavy snowstorms and experiences chilly winds. The pass provides a natural cultural divide between middle Himalayas and its primarily Hindu culture, with the dry desert uplands north of the Pir Panjal. River Beas originates from near by place, called Beas Kund. Being a bit inaccessible to the modern civilization has helped the place to retain its pure and untouched beauty. Buddhist monasteries in near by places give it purity, sanctity, and a haunting look as well.