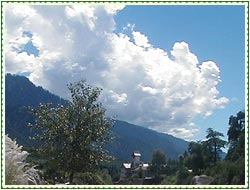 Manali is a popular hill resort of Himachal Pradesh, which remains crowded with tourist almost throughout the year. The reasons for this are its climate, which remains pleasant the whole year, and its exquisite natural splendor. During summers, it is the ideal place to beat the scorching heat of the plains. Winters in Manali, on the other hand, let you explore the joy of playing in the snow. Just like any other place in India, Manali also has three distinct seasons - summers, monsoons and winters. Read on to get more information on weather and climate of Manali.
Summer
Summer is the perfect weather condition to visit Manali. This is the time when the hill resort is full packed with tourists, coming from all across the globe. The summer season in Manali generally starts in the month of end-March and lasts through June. The maximum summer temperature during this time is generally around 26 degrees centigrade. Travelers are recommended to bring light cotton clothes to wear in this season.
Monsoon
The monsoon season in Manali stretches from the end of June to the month of September. The lush greenery that adorns the beautiful place of Manali after the rain is simply awesome. In fact, this season comprises of the trekkers' season in Manali and continues until the end of the month of August. Various global tourists also visit this place during the monsoons. There can be travel disturbances during rainy weather, but these can be avoided with precaution.
Winter
Winters in Manali start from the month of October and lasts until February and are extremely cold. Even these weather conditions do not stop tourists from coming and seeing the snowcapped peaks. Travelers are recommended to come with heavy woolen clothes during winters to enjoy exotic treat at Manali. In early March, Manali become awesome, with colorful fruits and flowers, along with multihued butterflies flying all around.