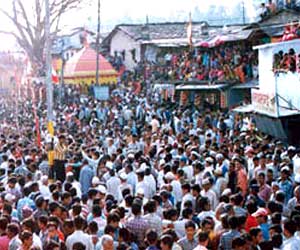 Uttarakhand have vivacious people celebrating life on any given occasion. Any fair or festival is a part of these celebrations surrounding the lives of ordinary people. Bikhauti Fair is celebrated on the day of Vishuwat Sankranti day commemorating an ancient victory. The Bagwal fair is also held at Syalde Pokhar in the old town of Dwarahat on this day. A day prior to Bikhauti Fair, a similar fair is held at Vibhandeshwar in which Lord Shiva is worshipped.
Location
The fair of Bikhauti is held in the town of Dwarahat, about 64 kms from the town of Ranikhet (28 kms from Almora). This archaeologically and traditionally imperative town is situated on the Karna Prayag Road and is just six kms from the extremely famous and pious Dronagiri temple. The town of Dwarahat was once the capital of Katuyari Royal clan of Kumaon and has a group of temples dedicated to Mrityunjaya, Dhwaj, Badrinath, Maniyan, and Kachri Devtas.
Established Magnificence
Bikhauti Fair has been triumphant in keeping hold of its mature splendor and cheerfulness to a big amount. Another fair called the Somnath fair is also held on the day of Vishuwat Sankranti in the Shiva temple situated at Masi. It is a very famous ancient fair of Pali Pachhaun. Cattles, especially bullocks and calves are sold at the Somnath fair. The summers usually see the unique Machhli Utsav (the fish festival) celebrated with the villagers bearing tumra come with Jaal, fatyav and hathiya to the river to catch fish. The fish festival is locally known as Dahau especially in the regions of Masi and Bhikiasen.