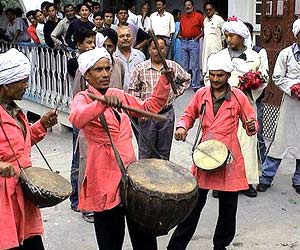 The people of the state of Uttarakhand celebrate a number of fairs and festivals. The Uttarayani Fair is a perfect example of the highly sacred sentiments of the local residents. Of all the places, the Bageshwar temple fair attracts the largest number of people. At Pancheshwar, the dola of Chaumu comes down to the temple. Though very old and mainly a commercial fair, even today the fair attracts a large number of people, who spend the whole night dancing and singing Jhoras, Chancharis and Bairas.
Month & Venue
The Uttarayani Fair is held on the occasion of Makar Sankranti, dated 14th January at various places like Bageshwar, Rameshwar, Mahadev, Chitrashila (Ranibagh) and Hanseshwar. This day is so auspicious that it is believed that bathing in holy waters will wash away one's sin for at least seven lives.
Trading Time
People from all over Uttarakhand/Uttaranchal come and sell things like iron and copper pots, handmade baskets, casks, bamboo articles, mats, supple mattresses, sleek carpets, warm blankets, garden herbs and spices, wild and semi-wild ponies, goats, sheep, furs, yak tails, musk pods, borax, salt horns, books, shoes, fruit dried and fresh.
Political Significance
The Uttarayani Fair has been used a stage for social and political change since time immemorial. In 1921, social activists had set afloat the registers of bonded labor known as 'Coolie Begar' in the confluence of Saryu and Gomti. It was headed by Pt. Badri Dutt Pande, thus ending a shameful and outrageous convention. In 1929 Gandhi Ji also came to Bageshwar to give the call for Indian freedom. Many freedom fighters and folk singers have been closely associated with the Bageshwar fair.