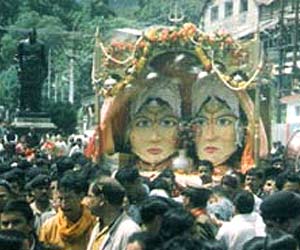 Fairs in Uttarakhand serve as a meeting point for mingling with people from other parts of the state, trade items of local produce and of course celebrate something of religious importance. People in the state celebrate the Nanda Devi Fair in tribute of the goddesses Nanda and Sunanda. The fairs at Almora and RoopKund draw the largest number of people. The term Nanda means prosperity and well being. Nanda Devi Fair is held with a great deal of pageantry and magnificence and it signifies the economic and cultural affluence of the region.
Month & Venue
The Nanda Devi Fair is usually held in the month of late August or early September depending upon the date of the lunar calendar. It is held in many places in Uttaranchal like Almora, Nainital, Nauti, Dandidhara, Munsiyari, Ranikhet, Bhowali and Kichha. The tiny sluggish settlement of Lohar (like Milam and Martoli) and Pindar valleys (like Wachham and Khati) are also not far behind. In Chamoli however the fair is held once in twelve years, like the Maha Kumbh Mela.
The Fair
The fair was initiated by King Kalyan Chand of Chand Dynasty of Garhwal in the 16th century to showcase the economic and cultural prosperity of different regions. It also served as a competition to better each other every year. People take part in the parade which carries the dola (litter) of Goddess Nanda Devi. The yatra continues for three long weeks and people from different parts are seen to participate in it. The yatra begins from Nauti village near Karna Prayag and goes up to the heights of RoopKund and Hemkund with a four-horned sheep. A lot of hand-made goods made by the rural community craftsmen are brought for sale. One can also observe some outstanding recitals by the local artistes at these fairs.