Apart from being a fabulous travel destination in itself, Kausani also serves as a base to a number of wonderful excursions as well. The famous hill-tops like Nainital, Almora and Ranikhet make excellent excursion options from the town. Kausani also proves as a great base for the Pindari and Gafri glaciers. The famous temple of Bajinath is within a range of 20 km from this place. In other words, the place has a lot of excursions with which to keep you occupied throughout your trip, right from the glaciers to the temples of Uttarakhand.
Tourist Places to See Near Kausani
Almora
Approximately 52 km from Kausani is a picturesque hill-top Almora, with breathtaking panoramic view of Himalayas, definitely worth paying a visit. The place is famous for its rich cultural heritage, distinctive handicrafts, luxurious cuisine and splendid wildlife.
Nainital
The famous hill station of Nainital is at a distance of 117 km from Kausani and makes up a great excursion place. This hill town is famous for its enchanting lake, fascinating views of Himalayas, lush greenery, pleasing weather and a peaceful atmosphere.
Ranikhet
Ranikhet, the 'Queen's Meadow', is a small hill station that falls about 80 km away from Kausani. A sylvan, calm and striking town, it boasts of a number of attractions to keep you enchanted.
Pindari Glacier
Pindari Glacier, at an altitude of 3353 m, forms a wonderful excursion from Kausani. This glacier is famous for trekking throughout the world. It is situated between the snow-covered Nanda Devi and Nanda Kot mountains ranges and is a must-visit excursion from Kausani.
Kafni Glacier
Situated at an altitude of 3853 m, this glacier is a trekkers' paradise. On the way to the glacier, you come across several awe-inspiring views of the mighty Himalayan ranges, making your trek a delightful experience.
Patal Bhubaneswar
Approximately 100 km from Kausani, Patal Bhubaneswar is a temple perched at an elevation of 1350 m above sea level. The temple is named so because of its location, below the ground level, which is reached through a narrow tunnel shaped way, comprising of approximately 200 steps. The temple, said to be the abode of 33 crore Hindu God and Goddess, is famous for its stone carvings.
Baijnath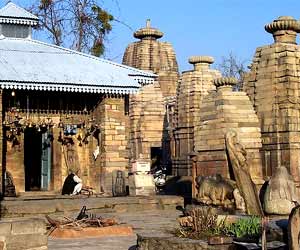 Baijnath is a famous temple built by Katyuri rulers. Merely 17 km from the town of Kausani, it is made up of a cluster of Shiv-Parvat temple. One of the most famous temples is Kot-ki-Mai.
Bageshwar
Approximately 38 km from Kausani and 23 Km from Baijnath, situated on the confluence of Gomti and Surya rivers, Bagnath is famous for its scenic grandeur, Bagnath temple and Shiva temple (constructed during the reign of Chand rulers). The famous Uttarani fair takes place here every year. The temple complex here is the main tourist attraction.
Within easy distance from the heart of Bageshwar, are the two facing hills of Neeleshwar and Bheeleshwar. Bheeleshwar can be reached by a motorable road (about 15 minutes drive), while Neeleshwar is a half an hour easy climb by the stairs. The famous temples, Chandika Temple and Shiva Temple, are located atop Bheeleshwar and Neeleshwar hills.
Someshwar
:
Approximately 11 km from Kausani, on the Kausani-Amora route, lies the Someshwar town. The area is famous for housing a Shiva temple, said to be the 12th Jyortirlinga in India. The Temple was built by ruler Lakshmi Chand in 1602 and houses idols dating from 7th to 16th century.
Rudhradhari Falls & Cave
Rudhradhari Falls and Cave form one of the major attractions on the Kausani-Almora Road, on the way to Someshwar. It is situated at a distance of approximately 12 km from Kausani.
Binsar Wildlife Sanctuary
Nature lovers can move from Kausani to Binsar to visit the famous wildlife sanctuary here. Binsar also offers breathtaking views of the Himalayan ranges.