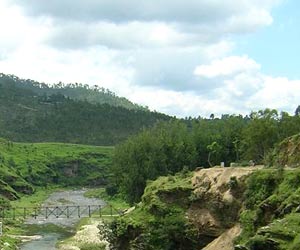 Enclosed amidst beautiful pine, oak and deodar forests, and providing an enchanting view of the mystic Himalayas, Kausani is a place which you must visit on a trip of Uttarakhand. The fresh, unpolluted air from the serene and unscathed atmosphere of Kausani is enough to refresh your body and soul from the hullabaloo of polluted cities. The pleasing temperature of the hill resort gives you a heavenly feel, away from the dry scorching heat of the plains. The temperature of Kausani varies between 25
o
C and 2
o
C throughout the year. April to June and September to November are the best months to visit Kausani, as during this time, the flora is in full bloom and temperature is extremely pleasing. Let us get some more information on the weather and climate on Kausani.
Summer
The summer season in Kausani starts around March and stretches on till June. During this time, the maximum average temperature is around 25
o
C and minimum temperature revolves around 12 to 15
o
C.
Winter
From late October to mid-February, Kausani witnesses the winter season. In these months, the maximum temperature is around 10
o
C; while the minimum temperature drops to 2
o
C. Kausani also experiences snowfall during the months of December and January.
Monsoon
Kausani receives heavy rainfall in the monsoon season, which lasts from June to September. The maximum rainfall in the area has been recorded at 3048 mm (120 inches), while the minimum rainfall is around 1777 mm. (70 inches).