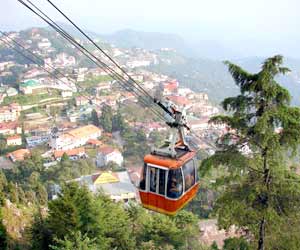 Popularly known as the 'Queen of Hills' in India, Mussoorie is a hill station in Uttarakhand, situated at an altitude of approximately 2,000 meters above the sea-level. With its pleasant weather and attractive flora and fauna; it is one of the most visited hill resort in India. Mussoorie is named so because of 'mansoor', a shrub indigenous to this area. Adorned with attractive snow ranges on the north-east and glittering views of the Doon Valley and Shiwalik ranges in the south, the town almost looks like 'a paradise'. Let us explore information on the tourist attractions in Mussoorie.
Places to Visit in Mussorie
The Mall
Situated in the 'heart of the city', Mall is the main shopping place in Mussoorie. It runs from the old Picture Palace cinema spot, right down to the Library. It is famous for the antique shops at the clock tower. The middle section 'kulri' of the mall is famous for shops, restaurants and video parlors.
Kulri Bazaar
Kulri Bazaar, lying on thje eastern end of the Mall road, is a lively market place. At Kulri Bazaar, you will find a number of holets, tourist guest houses and lodges along with a host of eateries offering cuisine that ranges from Tibetan and Chinese to Mughlai and continental. Coffee shops like Café Coffee Day and Barista are also located here. This is a well stocked market where you will find what ever you seek - Jackets, Shawls, Branded Clothes, Audio and Video CDs and so on. There is an interesting landmark here, Picture Palace. It was once the biggest cinema in India, but is now defunct.
On the slope by the cinema theatre, there's a skating rink in Silverton. Other beautiful buildings of imperial era include the SBI building which during British Raj was Imperial Bank of India, and Methodist Church.
Company Bagh
Renamed as Municipal Garden, this beautiful garden is still popular as Company Bagh. It is located at a distance of 2 Km from the Library on the Happy Valley Side. This garden is often found crowded with families having a joy time either boating or simply picnicking on the lush green grass.
Camel's Back Road
Camel's Back Road can be a good place for people who want to spend some time in peace and solitude. The 4-km camel's hump-like stretch, overlooking the hills near the Library end of town, offers horse rides and rickshaw rides as well.
Library Bazaar
Library Bazaar has been so named because of the 19th century Victorian-style Library at the end of the Mall. In British era, people of the town would gather here to listen to their famous musical bands.
The Walks
From the Mall area, there are several diverts that may take you to interesting places in Mussoorie. Known as the walks, they present an interesting option to people who love exploring ancient places and like being in the lap of the nature.