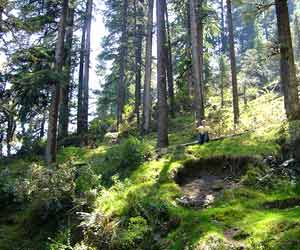 Mussoorie is, in itself, an extremely beautiful town. Adding to its charm are exhilarating surrounds and beautiful excursions. In the radius of 25 km around the hill resort, everything seems to have been beautifully carved and skillfully finished. In fact, the enchanting surroundings of Mussoorie add to its beauty and also increase its tourism prospects. In the following lines, we have listed some of the most famous excursions around Mussoorie, a hill resort in Uttarakhand.
Tourist Places to See Near Mussoorie
Kempty Falls
Kempty Falls, 15 Km from Mussoorie, make up an extremely beautiful waterfall, enveloped between Garhwal mountain ranges. Situated at an altitude of 4500 feet, the falls present an overwhelming view of the surrounding vista. As you look at them, it feels as if they are doing a kind of somersault before they hit the ground. This is a perfect picnic spot for all the nature lovers.
Kanatal
Kanatal is one of the most beautiful hamlets near Mussoorie. Located on the Mussoorie-Chamba road, in the district of Tehri Garhwal, it is the perfect destination for those who love to have a rendezvous with the unspoiled and untamed nature.
Chamba
Chamba is small hill town, about 67 Km from Mussoorie, located in Tehri district of Uttarakhand. It is situated at an altitude of 1676 m. It is an unexplored, unscathed, serene destination, approximately 60 km from Mussoorie. It is an excellent place to relax, amidst the beautiful hills and snow-clad mountains. This place offers several scenic vistas of the snow clad ranges of the Himalayas and the beautiful views of river Bhagirathi. The place is famous for its beautiful orchards as well.
Jharipani Falls
Jharipani, located at a distance of 6 Km downhill from Mussoorie is connected through motorable road with Mussoorie. A road leading down from famous St. George's School of Mussoorie will take you to Jharipani Main Market. From here, the falls are about 30 minutes walk. This is an ideal spot for picnicking.
Nagga Tibba
Nagga Tibba is a peak situated around 55 km from Mussoorie. Towering at a height of around 10,000 feet, it is credited with being the highest peak around the hill resort. Covered by thick forests, it is the perfect spot for trekking, open for trekkers all around the year. Nagga Tibba provides magnificent scenic vistas of Garhwali villages, dense forests and the Himalayan ranges.
Lal Tibba
One of the most beautiful excursions around Mussoorie, Lal Tibba is the place where you get to sense the British origin of this hill station. From this point, you can see the mountain ranges of Badrinath, Kedarnath and Banderpunch, through the Japanese telescope installed here in 1967.
Dhanaulti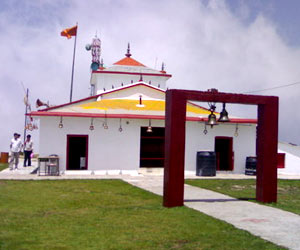 Unspoilt, unscathed, unexplored forests of Dhanaulti are a great relief from the polluted and overcrowded cities. It is a beautiful place, about 30 km from Mussoorie, with vast green meadows, pasture lands and dense deodar, pine and oak trees. In Dhanaulti , there are beautiful orchards and natural streams appearing from here and there. This area provides magnificent views of snow-clad mountains as well. In short, it is the perfect destination for those who love to be in the vicinity of nature.
Surkhanda Devi
Surkhanda Devi is an ancient temple near Dhanaulti , located at an altitude 10,000 feet. This temple is dedicated to Shankar's consort - Sati and has to be reached through 2 km long trek. Mythologies say that Lord Shiva brought Sati's dead body, on his trishul, to Surkhanda Devi, from Haridwar. The top of this temple provides an awe-inspiring, 360 degree view of the area.
Lakha Mandal
Lakha Mandal is an ancient temple situated at the heart of Lakha Mandal village, in Dehradun District. It is situated at a distance of 75 km from Mussoorie. The presiding deities of this temple are Shakti, the Goddess of Power, and Lord Shiva, the God of Destruction. The place is also linked to epic Mahabharta. There are two statues in the temple, which are said to be of Bhima and Arjuna, the Pandav brothers.
Yamuna Bridge
Yamuna Bridge, situated on Chakrata-Barkot Road, is an ideal spot for trout fishing. However, before going there, permissions need to be taken from the Forest Department at Mussoorie.