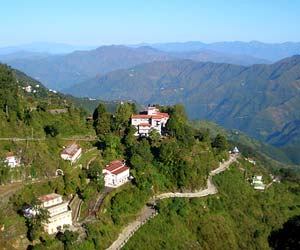 Mussoorie is known for its healthy and pleasant weather. This attractive hill station has always been tourists most favored destination away from the heat of the plains. Situated at an altitude of approximately 7,000 feet above the sea level, it abounds in natural beauty and scenic splendor. The ideal period for visiting Mussoorie is either between April and May or between September and November, when the temperature is extremely pleasant and the lush green flora has covered the hill top completely. Let us get some information on the weather and climate of Mussoorie.
Summer
The summer season in Mussoorie lasts from April to June, during which period the hill resort experiences pleasant climatic conditions. Around this time, the maximum temperature is somewhere around 30°C, while at night, it might dip to as low as 10°C.
Winter
In Mussoorie, winter starts in late October and stretches on till mid-February. In the day, the temperature hovers around 10°C, while the nights usually see it plummeting to 0°C. The hill resort might also experience snowfall in the winter season.
Monsoon
The monsoon in Mussoorie falls between the months of June/July and September, usually followed by spring time. In this season, the hill resort abounds in natural beauty, with lush green vegetation all around. Mussoorie experiences heavy drizzling around December also.