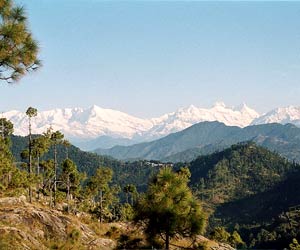 Pithoragarh is quiet little hill station located in Uttarakhand state. Endowed with natural beauty in abundance, Pithoragarh is a destination that offers a retreat from the usual urban surrounds and maddening crowds of big cities.
Pithoragarh, besides having much to do in itself, also has a host of interesting places close by that you can visit. Let us see some of such places you can explore while in Pithoragarh.
Pithoragarh Fort
This beautiful fort, lies on the outskirts if the main town. The fort was made by the Gorkhas in 1789, the year when they took over the town of Pithoragarh. You have to climb a good deal to reach the top. From here you can clearly view Kali Kumaon, so it proves to be worth the effort.
Jhulaghat (33 Km)
Jhulaghat is a small little town sharing its borders with Nepal. In fact river Kali acts like a natural border dividing India and Nepal. What makes Jhulaghat interesting is the hanging bridge over the river. It is because of this hanging bridge that the town is called Jhulaghat. There are markets on both sides of the border selling imported goods that you can buy at affordable prices. Another interesting thing you can do is to cross the bridge and visit bordering town of Nepal, called Baithari. Baithari has a bigger and better market place to shop around.
Chaukori (85 Km)
Located at an altitude of about 2000 meters above the sea level, Chaukori is a quiet little but extremely beautiful hill town. Cradles in the lap of Himalayan nature, Chaukori is devoid of usual crowd found in hill stations. You don't even see many vendors here. However, what makes this place wonderful is its scenic beauty and the breathtaking views of surrounding snow capped Himalayan peaks that it offers. There are also some tea gardens and fruit orchards here that you can visit.