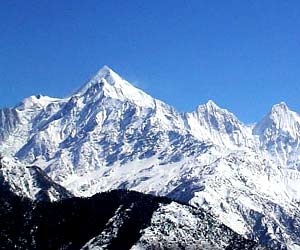 The name 'Munsiyari' means a 'place with snow'. Munsiyari is a tehsil and a town located in Kumaon Himalayas in Pithoragarh district within the hill state of Uttarakhand in India.
Located at an altitude of 2, 200 meters above the sea level amidst snow capped Kumaon Himalayas; Munsiyari is relatively a new discovery, now in the list of some of the most beautiful hill stations in India. Wedged in between the borders of India, China and Nepal, this exotic destination was restricted from being opened for full scale tourism until recently.
Munsiyari is a paradise for the nature lover. The forests that clothe the lower reaches are stunningly attractive with colorful mountain vegetation that includes besides others, rhododendrons. This dense Himalayan forest is home to a variety of birds and animals such as whistling thrush, wagtail and hawk cuckoo, falcon and serpent eagle, and leopard, mountain bear and the musk deer.
Munsiyari offers breathtaking view of snow capped higher Himalayan peaks. Panchuli quintuplets that look like five chimneys are amongst the gorgeous treasure trove of magnificent peaks that are clearly visible form Munsiyari.
Situated on the banks of river Goriganga, Munsiyari is fast becoming a much sought after tourist destination. The mountaineers and glacier trekkers have already made Munsiyari a popular base camp for their expeditions.
Munsiyari lies on the entrance of Johar valley and falls en route the ancient trade route between from Tibet. The Johar valley extends along the path of the Goriganga River to its source at the Milam Glacier. This picturesque valley near Munsiyari is inhabited by Shauka people (called Bhotiyas by other locals).
Interesting Places Around Munsiyari
From Munsiyari, regular jeep safaris are now conducted to places of interest, located nearby such as Madkote (22km), Baneanani and Jaulijibi (66 km) and Birthi Falls (31 km). Another attraction is to trek to glaciers like Milam and Ralam for which Munsiyari serves as a base camp. Balati farm, Maheshwari Kund and Munsiyari Bugyal are other places which are fast becoming popular for their virgin environs.
Munsiyari also has a lot to offer to the adventure sporting enthusiast. While Goriganga is fast becoming popular for river rafting, alpine slopes of Khaliatop and Betulidhar in the higher reaches offer some splendid skiing opportunities. Goriganga river bed which is about 17 Km from Munsiyari is another place that draws tourists in large numbers.
Dar Kot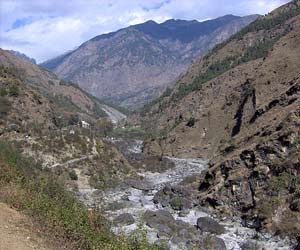 Dar Kot is a small village, about 6 Km from Munsiyari, en route Mad Kot. Here you can find 100 year old wooden houses with traditionally carved doors and windows. You can also buy authentic hand made shawls of Pashmina and Angora wool and sheep wool blankets.
Masterji's Museum
Fondly called Masterji, Dr. S.S. Pangthi is a retired school teacher who is a trekker, traveler, author and an authority on Bhotiyas of the area. He has put together interesting antiques in a private museum at his residence in Nanasen village. Here one can have a look at the original documents, which enabled trade beween the Johar Valley and Tibet and the personal effects of the traders.
Living In Munsiyari
Munsiyari though doesn't yet boast of five star hotels; comfortable boarding and lodging facilities are offered by a couple of private hotels, resorts, tourist guest houses and campsites with Swiss-cottage tents. Besides, while KMVN has a tourist rest house, the state PWD has an inspection bungalow in Munsiyari which can also be booked by the tourists.
How To Reach
By road, the base camp of Munsiyari is well connected with major destinations like Delhi (612 Km), Nainital (288 Km) and Kathgodam (261 Km). Nearest railhead is Kathgodam (319 Km) and nearest airport is Naini Saini at Pithoragarh (128 Km) or Pantnagar airport. : From Delhi one has to take NH24 to Rampur via Hapur Bypass, Gajraula and Moradabad Bypass and from there, NH87 to Almora via Bilaspur, Rudrapur, Haldwani, Kathgodam, Ranibagh, Bhowali, Khairna and Sualbari From Almora a state highway will lead to Bageshwar via Takula. From Bageshwar taking a state road, one will reach Chaukori via Vijaypur from where another state road will lead to to Munsiyari via Thal and Ratapani.