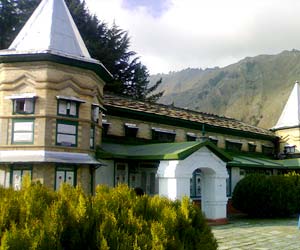 Temples are important structures in Pithoragarh for not only are they a place of worship but also a meeting point for people. Let's explore some of the most famous and ancient temples in Pithoragarh.
Dhwaj Shikhar
This is an extremely revered temple located at an elevation of 2,100 m above the sea level near Pithoragarh. One has to cover a distance of 15 kms by vehicle and four kms on foot. This temple is devoted to Lord Shiva and Goddess Jayanti. It offers a beautiful view of the Himalayan ranges.
Patal Bhubaneswar
It is very sacred and mysterious temple where the Sanctum Santorum is located in an underground cave. It is located at an elevation of 1, 350 m in the Himalayan Mountains. The main passageway releases into a number of tiny caves which have stone idol of Deities.
Sun Temple
It is another ancient temple located at the roads approaching from Lohaghat, Champawat and Devidhura meet. Though the image of the deity is disfigured, it still holds charm with clear pictures of the shoes and horses.
Maha Kalika Shaktipeeth
Located 78 kms from Pithoragarh at Gangolihat, Maha Kalika Shaktipeeth was specially chosen by Shankaracharya as a Shaktipeeth. Encircled by pine trees, the temple holds a mystery to a first time visitor; Goddess Kali is the main deity.
Narayan Ashram
Situated at an elevation of 2,734 m, the Narayan Ashram was instituted by Narayan Swami in 1936. Today, the Ashram has converted into an important socio- educational institution and attracts many scholars and Himalayan wilderness lovers from all over the country.