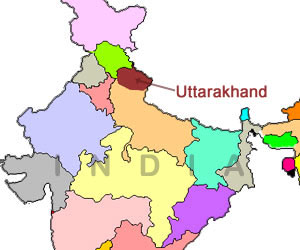 Uttarakhand is located in the northern part of India and has a total geographic area of 51,125 sq kms. It is one of the most beautiful and religious place in India whose charm was rediscovered by the British officers. The co-ordinates of Uttarakhand are 28°C 43' N to 31°C 27' N (Latitude) and 77°C 34' E to 81°C 02' E (Longitude). Almost the entire region of Uttaranchal is covered by mountains (approximately 93%) and forests show up on about 64% of the mountains. The great Himalayan Mountains Range makes up a greater part the state with the Upper Himalayas covered by the high Himalayan peaks and glaciers and the Lower Himalayas with Pine and Cedar trees.
The Nanda Devi mountain peak at Chamoli district is the highest point in the state of Uttarakhand at 7,817 m above sea level. The region has many glaciers, passes, meadows, and trekking routes with several major rivers and tributaries like the Ganga, Yamuna, Alaknanda and Mandakini originating from here. A most important part of this Himalayan state comes under rainforests and alpine forests that are home to some of the highly scarce wildlife species listed in the Red list of IUCN (International Union for Conservation of Nature). The state of Uttaranchal is full of diverse and rare flora & fauna which gives a boost to tourism there.
Uttaranchal is adjoined by Nepal in the East, China in the North, Himachal Pradesh in the west and U.P. in the South. Uttarakhand is unofficially divided into the regions of Garhwal and Kumaon to branch out the linguistic and geographical differences in the area. Many national parks and sanctuaries are located Uttarakhand such as the Jim Corbett National Park (the oldest national park of India), Valley of Flowers National Park, Nanda Devi National Park, Rajaji National Park, Govind Pashu Vihar National Park and Gangotri National Park.