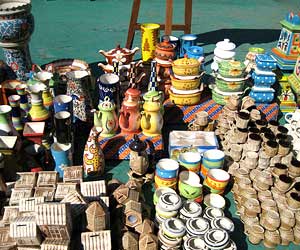 Whenever we go on a holiday far away from home, we want to take mementos and presents for folks back home. Shopping in Uttarakhand is the most compulsive delights of a journey here. Though Uttaranchal is not a run-of-the-mill commercial destination, but it can still prove a treasure hunt for an enthusiastic and curious shopper. It is a thrilling experience to find out little shops with beautiful local handicrafts and proudly displaying them in your living room as a pleasant memory of the trip to Uttarakhand.
There are many things that can be bought here like the exquisite wood carvings, hand-made candles, organic items, jewelery, religious statuettes, hand-made sweaters & cardigans, scenic paintings and last but not the least the famous Dehraduni Basmati Rice. Dehradun, Haridwar and Nainital can be named the shopping destinations in Uttarakhand. These towns have multiple markets and lots of places to explore. Dehradun has markets like Sahakari Bazaar, Ashley Hall, Rajpur Road, Paltan Bazaar and Connaught Place for items like woolen clothing, leather shoes, paintings etc. Also visit the Tibetan monastery to get some delicate trinkets and delicious food there.
Nainital, on the other hand, is famous for mainly hand made candles and colorful Lac bangles. Like Dehradun and Mussoorie, Nainital also have fern showpieces, wood carvings and woolen clothing. One can also buy farm fresh apples, cherries, mulberries, peaches and strawberries directly form the farmers. Haridwar has a religious fervor in everything. One can find 'Om' T-Shirts, tiny to large idols of gods and goddesses, beaded jewelry, Rudraksh pendants and Jholas (cloth bags) here.