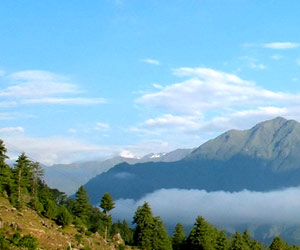 The lofty peaks of Himalayas influence the character of weather as they do the vegetation of the area. Since Uttarakhand is the part of the Western Himalayan ranges, it has every elevation of hills imaginable, right from the Shivalik foothills to the Greater Himalayas. Consequently the temperature is fairly contradictory throughout the year. The climate of the plains bears a resemblance to the neighboring regions of other states. Summers are pleasantly warm but sometimes the temperature goes very high.
However, the winters are very (and sometimes extremely) cold with the mercury dipping incredibly low. Nevertheless, the high altitude mountainous areas remain enclosed with snow for most parts of the year. The snowy peaks of the Himalayas act as a natural cooler not only to the immediate surrounding areas but also to the rest of India. The average temperature in hilly areas of Uttaranchal stays around 30°C in summers and 2°C in winters. The relative humidity borders around 77 to 92% approximately all through the year.
Best Time to Visit
The best point in time to visit Uttarakhand /Uttaranchal is during the summer season when the enjoyable weather of the hilly terrain becomes a boon from the extremely hot weather of the plains. The rainy season is best avoided as severe landslides can otherwise prove a dampener to your tour to Uttarakhand.