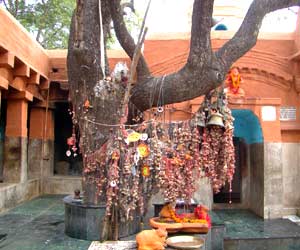 Location:
20 km from Asansol
Dedicated To:
Maa Kalyaneshwari, a form of Goddess Shakti (Kali)
The famous Kalyaneshwari Temple is situated about 20 km from the city of Asansol. It is considered to be an ancient temple, which is as much as 500 years old. The presiding deity of this temple is Maa Kalyaneshwari, a form of Goddess Shakti or Kali. The temple is situated very close to the famous tourist spot Maithan. It is visited by thousands of tourists in a year. Many people in the nearby locations visit the temple on an every day basis.
It is said that a visit to Kalyaneshwari Temple proves very fruitful. Any wish, if asked by devotees with pious heart and noble motives, is certainly fulfilled by Maa Kalyaneshwari. The temple is mostly visited by the barren women, who long for a child. It is believed that after visiting the temple and praying to the deity, they are often granted their wish.
This foremost structure of Kalyaneshwari temple is said to be built by a Hindu King Harigupta, who was fleeing from the Kushanas, in the third century AD, when he established the capital of his kingdom Salanpu near by. However, when the old temple started getting ruined, the present structure of the temple was built by King of Panchakot, around five centuries back.