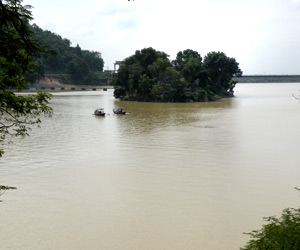 Maithan is one of the most popular excursions from Asansol. It is not only visited by tourists, but is also a favorite getaway of the locals, especially on weekends. Situated about 22 km from Asansol, on the border of West Bengal and Bihar, Maithan also houses the largest reservoir of the Damodar Valley Corporation. The reservoir is about 15,712 ft long and 165 ft high. It is spread over an area of 66 sq km. Built in 1957; this dam is still the hot spot of tourism near Asansol.
Other than the dam, the most prominent attraction of Maithan is the 135 ft deep hydel power project, inside the hills. It is first one-of-its-kinds power project in Southeast Asia. This power plant has the capacity to generate 60 MW power. Apart from these, the 120-150 ft deep Maithan Lake makes a magnificent site for picnic, boating and fishing. People come here to enjoy their weekends with their family. A deer park and a bird sanctuary have also been established nearby, attracting a lot of crowd on weekends.
The literal meaning of Maithan is 'Holy Mother's Abode'. The place is named so after the 500-year-old Kalyaneshwari Temple, located in the vicinity. The temple is situated nearby, on atop the Hyangla Pahar, the hungry mountain. The Kalyaneswari Temple is dedicated to a formof Mata Kali and is said to be built by a Hindu King Harigupta. A visit to this temple is said to be immensely fruitful. It is famous for granting the wishes of barren women, longing for a child.