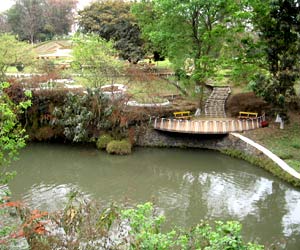 Asansol is basically an industrial area, which serves as a prominent center for coal mining in India. However, the city is also important from tourism purposes and offers enough tourist attractions to the visitors. In the radius of 20 km from the city, there are several places that will keep you pre-occupied on a trip. The dam of Maithan is a favorite picnic spot, which is not only enjoyed by the tourists, but also frequently visited by the locals. There are also some famous temples near by. Located in beautiful natural niche, the tourist places in and around Asansol are very pacifying and rejuvenating. Let us explore them in detail.
Places To See In Asansol
Kalyaneswari Temple
The famous Kalyaneshwari Temple is situated about 20 km from the city of Asansol. It is considered to be an ancient temple, which is as much as 500 years old. The presiding deity of this temple is Maa Kalyaneshwari, a form of Goddess Shakti or Kali. The temple is situated very close to the famous tourist spot Maithan. More
Maithan
Maithan is one of the most popular excursions from Asansol. It is not only visited by tourists, but is also a favorite getaway of the locals, especially on weekends. Situated about 22 km from Asansol, on the border of West Bengal and Bihar, Maithan also houses the largest reservoir of the Damodar Valley Corporation. The reservoir is about 15,712 ft long and 165 ft high. More
Nehru Park
Nehru Park is located in Burnpur, very near to Asansol. This beautiful park is sited on the bank of Damodar River and has several amenities, like boating, restaurant and musical fountain. The park was earlier known as Riverside Park. There is a very nominal entry fee for the park and a direct bus service takes you to the place, from Asansol. A huge cast iron statue of Jawaharlal Nehru, the first Prime Minister of India, welcomes you to the park.
Churulia
Churulia is a small village, which is about 17 km from Asansol. This place is basically known as the birth place of Bengali poet Kazi Nazrul Islam. The village currently houses the Nazrul Academy, where several manuscripts, medallions and other belongings of the poet have been preserved. A weeklong festival is held here annually, to celebrate the birthday of this legendary national poet of Bangladesh.