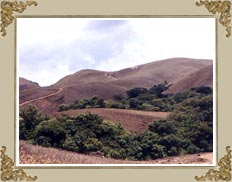 Kadapa, the city of historical importance in Andhra Pradesh, has scores of places around its periphery. These exciting places, situated at a comfortable distance, make nice excursions from the city. Gandikota Fort, being of prime significance, gets the maximum attention. Other places to see near Cuddapah are Tallapaka Temples, Ramappa Lake Top and Kandimallayapalli. Moreover, the journey from the settlement to these excursions becomes enjoyable in the presence of lofty hillocks covered with dense-green forests.
Gandikota
Gandikota is a small hamlet in Cuddapah district, situated on the banks of Pennar River. About 10 km from Jammalamadugu, the hamlet is popular for housing the Gorge Fort or Gandikota. Founded in 1123 A.D, the fort played an important role during the ruling periods of Kakatiyas, Vijayanagara and Qutub Shahis. This citadel is encircled by unfathomable valleys, impenetrable hills and wild forests. Madhavaraya Temple is the famous shrine inside the fort. It presents a spectacular panoramic view of the valley below.
Pushpagiri
On the banks of Pennar River, Pushpagiri is a picturesque place known for its primeval temples. This group of temples is known as the Pushpagiri Temples. Chennakesava Temple, being the largest one, attracts tourists from far-off places, due to its artistic magnificence. Built during the Vijayanagara period, these temples are amongst the oldest temples of the country.
Gandi
About 7 km from Vempalli in Pulivendula Taluka, Gandi Temple is renowned for housing a huge statue of Sri Anjaneya Swamy. This shrine was established hundreds of years back.
Sri Kodanda Temple
Dedicated to Sri Kodanda Ramaswamy, the temple is illustrious for its brilliant architecture and a stately doorway. This magnificent shrine is located in Vontimitta town, about 25 km from Cuddapah.