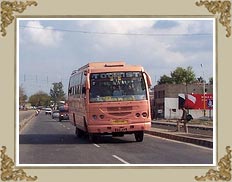 Kadapa, being the headquarters of district with the same name, boasts of a well laid-out network of roadways and railways. Owing to its plethora of tourist attractions, the city receives many tourists round the year. It has interesting places, varying from wildlife sanctuaries to temples and mosques. If you are traveling to Cuddapah and thinking about how to reach there, then don't take stress anymore, since it is easy to arrive at the city. Read further to know about reaching the Kadapa city of India.
By Air
Cuddapah has its own airport, situated at a distance of 8 km from the city center. This airport runs a few flights, on weekly basis, from Hyderabad and Tirupati. Besides this, airdromes at Hyderabad, Chennai, Bangalore and Tirupati are quite near to the city. The further distance to be traveled for getting to the city can be covered by private taxis or state buses.
By Rail
Kadapa Railway Station is located on the Chennai-Tirupati-Pune-Mumbai line. From Hyderabad, it lies about 405 km away and regular trains ply on this route. Though the city is not directly connected with the other parts of India by train, the stations at major cities within the state connect it indirectly.
By Road
Cuddapah is connected with the major and minor cities of Andhra Pradesh by both state transport corporation and private buses. The cities like Hyderabad, Chennai, Bangalore, Tirupati etc are well connected with Kadapa.