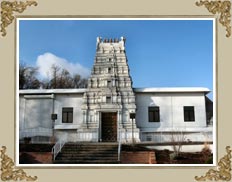 Kadapa, the lovely city of Andhra Pradesh, has loads of interesting places to visit. Be it archeological museums, prehistoric temples or the natural beauty, this historically significant city comprises many attractions that can mesmerize any beholder with their charm. On your tour to Cuddapah, you can glimpse the assorted culture of the city along with its lively people. Given below is information on the major tourist attractions of the city, which will help you in forming an itinerary for sightseeing tours.
Brahmamgari Matam Temple
In Andhra Pradesh, Brahmamgari was a famous person who envisaged many events of the Dark Age (Kaliyuga). In fact, what all he predicted has really happened. Brahmamgari Matam Temple is dedicated to the legend. People still believe that Brahmamgari will appear as Veerabhoga Vasantha Rayalu in Kaliyuga, to demolish the evil forces and restore the values.
Sri Venkateswara Temple
Considered the door step for Lord Venkateshwara, Sri Venkateswara Temple is visited by thousands of devotees. It is said that one should visit this temple before going to Tirupati, in order to accomplish their pilgrimage. The unique feature about this shrine is that here, Lord Anjaneya's idol is placed right behind the idol of Sri Venkateswara.
Sri Kodanda Ramaswamy Temple
Sri Kodanda Ramaswamy temple is dedicated to Sri Kodanda, one of the most worshipped deities in Andhra Pradesh. The temple is located in Vontimitta town and is about 25 km away from Kadappa. The majestic gateway and magnificent architecture of the temple allures its tourists.
Veerabhadra Swamy Temple
One of the famous temples of the region, Veerabhadra Swamy Temple is to be found on the Mydukur-Proddutur Road. Situated on the banks of Kundu River, the temple attracts people in large number. The festival of Maha Shivratri is observed here with grand celebrations.
Tallapaka Temples
Tallapaka, a small village located in the Rajampet mandal of Kadapa district, is abode to a number of temples that attract the tourists due to their architectural magnificence. Apart from the temples, the village gains prominence, because it is the birth place of Saint Annamacharya, the composer of some of the popular devotional songs dedicated to Lord Venkateswara.
Pushpagiri Temples
One of the pilgrimage destinations of Kadapa district, Pushpagiri is house to a group of temples, popularly referred to as 'Pushpagiri Temples'. Built on the banks of River Pennar during the Vijayanagara period, Pushpagiri Temples are located 16 kms away from the city of Kadapa. Famous for its numerous temples, Pushpagiri holds significance for being the only holy place for both Shaivas and Vaishnavas.
Bhagavan Mahavir Government Museum
Bhagavan Mahavir Government Museum has been established by the Government to conserve the important artifacts of the primeval age. It has a collection of valued bronze icons, antediluvian stone sculptures and primitive inscriptions. The priceless artifacts peep into the ancient civilization.
Ontimitta
Ontimitta is a small town, renowned for Kodanda Rama Swami Temple. The aesthetic splendor of this temple has been mentioned in the travelogues of Tavernier, a French traveler who visited the place in 1652. Its colossal size and artistic beauty attracts people from far and wide.
Devuni Kadapa
Near Kadapa city, Devuni Kadapa is a place that is believed to be the doorstep of Tirupati. Before proceeding towards Tirumala Tirupati, the pilgrims stop at this place to pay their homage to the presiding deity.
Ankalamma Gudur
Abode of Ankalamma Swamy, Ankalamma Gudur is the famous place sited on Pulivenlda-Simhadripuram Road. Ankalamma Swamy Temple is visited by hundreds of people on Thursdays and Sundays.
Gandikota Fort
Situated on the right banks of River Pennar, Gandikota village is renowned for its Fort. Gandikota Fort is beautified with the picturesque beauty of nature and wild forest, thereby making it one of the tourist attractions of Kadapa. The history of the Fort dates back to 112 A.D. Historical records suggests that the Fort was prominent during Kakatiya, Vijayanagara and Qutub Shahi periods.
Ameen Peer Dargah
Kadapa district is a much visited destination by Muslims as well, because the well known Ameen Peer Dargah is located there. The 325 year of Dargah is visited by thousands of pilgrims every year. One can witness flock of devotees especially on Thursdays and Fridays, because they visit the Dargah to seek blessings of Saint Peerullah Hussaini and Saint Arifullah Hussaini, who were buried here.
Lankamala Sanctuary
Lankamala Sanctuary, one of the major tourist attractions of Kadapa district of Andhra Pradesh, is spread over 464.42 sq km of area. It is about 15km away from the city of Cuddapah. The sanctuary is characterized by steep slopes and deep gorges. Waterfalls in its premises add to its picturesque beauty. It is home to a number of endemic species, while its forest consists of dry deciduous and dry evergreen shrubs.
Sri Venkateswara Wild Life Sanctuary
Located in Rajampet, Sri Venkateswara Wild Life Sanctuary is a very popular national park. It is home to rare and slender Lories. Plant species like Sandalwood, Thumbergiana, Shorea and Redsandars can be found in the sanctuary.
Other Tourist Attractions
Apart from the aforementioned tourist attractions, one may visit Ramappa Lake Top, Kandimallayapalli, Chand Phira Gumbadh and Masjid-e-Azam, when one is touring the Kadappa district of Andhra Pradesh.