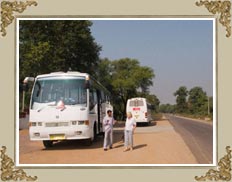 Every year, Kurnool is visited by many devotees and tourists due to the presence of numerous temples and interesting places. Traveling to Kurnool is hassle-free in view of the fact that it is well-connected to other parts of the country via rail and road. Its railway station falls on the Secunderabad-Bangalore railway line. The National Highway No.7 navigates through the city, connecting it with Hyderabad, Anantapur and Bangalore. Reaching or getting by air is another option and for this, you can rely on Hyderabad airport, which is hardly 213 km from the city. Read further to know about how to reach Kurnool city of India.
By Air
Kurnool doesn't have its own airport. Hyderabad Airport is the nearest airport - at a distance of 213 km from Kurnool. It runs flights to and from all the major cities of India. Moreover, it has some international connections too. To cover further distance, you can hire taxis or take state buses that are easily available.
By Rail
Kurnool Railway Station happens to be on the Secunderabad-Bangalore railway line. Owing to this fact, it is connected with all the stations falling on the line. You can approach either Hyderabad or Bangalore in order to reach other parts of India. From here, you can get passenger trains to Hyderabad, Delhi, Chennai, Mumbai and Hubli.
By Road
Kurnool has a good network of state as well as district roads. National Highway No.7 traverses through this city, connecting it with other parts of India. Places like Cuddapah, Anantapur, Chittoor and Hyderabad are well-connected by various state and private bus services. Private taxis can be hired from anywhere in the state to travel here.