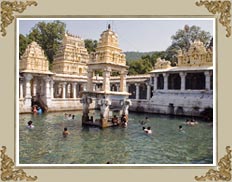 Kurnool, the erstwhile capital of Andhra Pradesh, has several attractive places to see around. Your itinerary for sightseeing tours would first of all include Konda Reddy Burz, a fort that dates back to the 15th century. Protected under the Ancient Monuments Preservation Act of India, Konda Reddy Burz boasts of splendid architecture and is worth-seeing. Tour to Kurnool would be incomplete without paying a visit to the Tomb of Abdul Wahab, which was built in 1618 AD. Another attraction in the city is the vestiges of the Palace of Gopal Raju, the last Hindu ruler of the region. The major temples of Kurnool are dedicated to Nagareswarasawami, Peta Anjaneyaswami, Venugoplaswami, Iswaraswami, Saibaba and Stayanarayaswami.
Srisailam Temple
Srisailam Temple is a highly revered shrine that houses one of the twelve 'Jyotirlingams' of India. Located at Srisailam, falling under the Kurnool district of Andhra Pradesh, the shrine is visited by thousands of people every year.
Adoni
Adoni is a small town renowned for a ruined fort, which reminds you of the erstwhile Vijayanagar Empire. Perched atop the five rocky-granite hills, the fort embraces the famous Shahi Jama Masjid. This mosque is a superb specimen of Islamic architecture.
Ahobilam
A little away from Kurnool, Ahobilam is a famous religious centre of the Hindus. On a hill, the temple is divided into two parts. The shrine in the foothills is known as Prahlada Varada Laxminarasimha Temple, whereas the shrine on the top of hill is dedicated to Nava Narasimha.
Sangameswaram
Sited at the convergence of two rivers - Bhavanasi and Krishna, Sangameswaram is also called as Sapta Nandi Sangam. It is to be found at a distance of 55 km from Kurnool. Here the temple has a Shivalingam crafted out of wood, unlike other temples that have stone or marble lingam.
Mahanandi
Mahanandi is a beautiful place, positioned at the periphery of Nallamala Forest. This pilgrim centre has an ancient temple of Lord Shiva. Inside the temple complex, there is a pool that incessantly gets water from the natural springs. Its fresh and pure water is also regarded as the eraser of sins. Mahanandi receives many tourists due its natural beauty and serene surroundings.