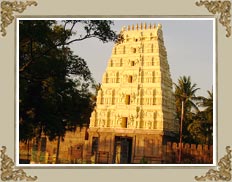 Srisailam Temple is a highly revered shrine that houses one of the twelve 'Jyotirlingams' of India. Located at Srisailam, falling under the Kurnool district of Andhra Pradesh, the shrine is visited by thousands of people every year. Rishabhagiri Hill, also known by the name of Sri Giri, Sriparvata, Rudra Parvata and Seshachalam, makes the venue of this temple. River Krishna flows by the side of the temple; here it is called as 'Pataalganga'.
Dating back to the 2nd century, Sreesailam Temple finds its reference in various mythological texts and scriptures. Its sculptural beauty is simply remarkable. There are no less than 116 inscriptions in and around the shrine. Sri Mallikarjuna Swami and his consort Bharamaramba, who are the incarnations of Lord Shiva and Parvati, are the presiding deities of the temple. Another notable point is that it is open to people of any caste, creed or color, unlike some other temples.
On turning the pages of history, it is revealed that this shrine has been visited by the Chalukyan kings, Krishnadevaraya of Vijayanagara and Chatrapati Shivaji, along with Adi Shankaracharya. Nonetheless, the Buddhist pilgrims - Fahiyan and Hieun T`sang have also stated this temple in their travelogues. As per the folklores, Vrishabha (the sacred bull mount of Lord Shiva) did penance, requesting Lord Shiva and Parvati to appear here.
In 1404 AD, Harihara Raya built a new temple that comprised the same old deities. Its stone walls are strong fortifications, festooned with relief carvings representing scenes from the Hindu mythology. Besides this, there are other shrines, like those of Sahasra Linga, Panchapandava, Sikhareswara Swamy, Sri Ganapathi and Vata Vriksha. Devotees from all parts of the world come to pay their homage at Srisailam Temple.