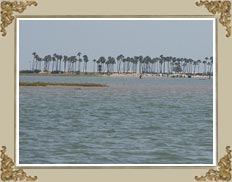 Nellore is visited by thousands of people every year. Situated in the company of virgin beaches, rich vegetation, remarkable forts, shimmering lakes and magnificent temples, the city has become a popular destination amongst tourists. There are many places to see near this Rice City. The interesting sights that you see while driving through the region are additional perks you would be receiving on your visit. Once visited, these excursions would become part of your cherished memories.
Mypad Beach
With a picturesque coastline, Mypad Beach has serene landscape that never fails to impress its visitors. The aesthetic appeal in its beauty differentiates this tranquil seashore from the other beaches, where water sports have plasticized the countryside.
Nelapattu Bird Sanctuary
Nelapattu Bird Sanctuary is known to be one of the largest habitats for Pelicans in Southeast Asia. Located on the East Coast, in Nelapattu village, this haven sprawls over an area of 404 sq mtrs. It has numerous species of native as well as migratory birds. Apart from the birds, the sanctuary also has fauna like Jackals, Slender Loris, Monitor Lizard, Tortoises and Snakes.
Udayagiri Fort
Dating back to the 14th century, Udayagiri Fort was built by the Vijayanagar kings. With an elevation of 994 meters, this massive fort is located at a distance of 96 km from Nellore. It is to be found on the top of the Sanjiva Hill. It has eleven fortresses, along with numerous Pallava and Chola temples. Sprawling over an area of about seven miles, Udayagiri Fort is notable for its splendid architecture.
Pulicat Lake
Pulicat Lake has been acclaimed as the second largest brackish water lagoon in India. Along the coast of the Bay of Bengal, the lake attracts large number of migratory water birds. Besides this, it also makes a feeding and breeding ground for a range of aquatic and terrestrial birds.
Somasila
Sited about 80 km from Nellore, Somasila is known for its Someswara Temple and Somasila Dam. The temple was built during the rule of Sri Krishna Devaraya. Across Pennar River, Somasila Dam is the biggest dam in the entire Nellore district. Its reservoir serves as a picnic spot to the dwellers of the region.
Rahmatabad
Situated near Nellore, Rahmatabad is famous for housing the tombs of some famous spiritual personalities like Nayab-e-Rasool and his wife Maa Habiba. During the months of June-July, this place is visited by thousands of people since it is the time of celebrations.