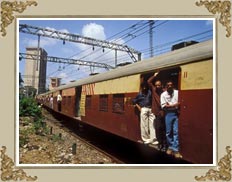 Nellore receives many tourists round the year, owing to its plethora of scenic spots. Traveling to this historical city of Andhra Pradesh is easy, since it is has a good network of roadways and railways. Getting to Nellore by air is another option and in this case, Chennai Airport would serve as the nearest landing field. Regarding Railways, one national railway line passes through the city. The National Highway No. 5 also moves across Nellore. All the major cities of South India, like Hyderabad, Chennai and Bangalore, are connected to the city by bus or train. You can also reach here by boat, through Krishnapatnam port. Know more about how to reach Nellore.
By Air
Since Nellore doesn't have its own airport, Chennai airdrome receives the air-traffic of the city. It is connected with all the major cities of India and has several international contacts too. This airport is sited at a distance of 170 kms from Nellore. You can hire taxis, board a train or take state buses for getting there from the airport.
By Rail
Nellore Railway Station is located on the Waltair - Chennai broad gauge line. Owing to this, it is connected with all the major towns and cities within Andhra Pradesh. To catch trains for other parts of India, you can either head for Chennai or Hyderabad. By train, it takes around 3 hours to reach Chennai and 10 hours to reach Hyderabad.
By Road
Nellore boasts of a well laid-out network of state and district roads. National Highway No.5 traverses through the city and connects it with other parts of the state. Regular buses ply from Chennai and Hyderabad to Nellore. One can also hire private taxis from within and outside the state to reach here.