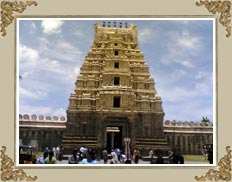 Nellore, the Rice City, is primarily famous for its Ranganatha Temple. Indeed, this temple makes the foremost part of sightseeing tours in the region. Amidst the natural splendor, Nellore is still far from the turmoil of crowded metropolitan cities. On your tour to this serene place, you would come across many sights that are worth-seeing. The tranquility of the region gets further enhanced by the spiritual aura of the temples nearby. Scroll down to get more information about the tourist attractions of Nellore.
Ranganatha Temple
Located on the banks of Pennar River, Ranganatha Temple is the most popular and most visited temple of Nellore. The main entrance of the temple is 29 meters high and has seven gold 'Kalasams' (pots). Addalamandapam (mirror hall) presents the most picturesque sight with its high-definition of mirrors. It also houses the seat of the Lord. Over 600 years old, Ranganatha Temple observes an annual festival of Rath Yatra (chariot festival) every year.
Krishna Mandir
Krishna Mandir is a huge shrine, situated on the Vedayapalem Road in Nellore. The sanctum sanctorum has idols of Lord Krishna, flanked by Lord Ganapati and Dattatreya. Other shrines in the temple are dedicated to Karya Siddhi Hanuman and Ashtha Lakshmi.
Penchalakona
Penchalakona, a valley sited about 10 km from Nellore, is famous for embracing Narasimha Swamy Temple. The place is known for its scenic landscape and pleasant weather. Perched on top of the Veda Giri (Hill), the temple is considered to have been erected over the place where Lord Venkateswara had kept his holy feet.
Jonnawada
Jonnawada is a famous pilgrim centre, located about 15 km from Nellore. It has one of the only two Kamakshi Devi temples in the world. Built in 1150, this temple complex has shrines of Sri Mallikarjuna Swamy and Goddess Kamakshamma. Every year, a 10-day festival is celebrated here with full gusto and fervor.